MULTIPLES ON DEMAND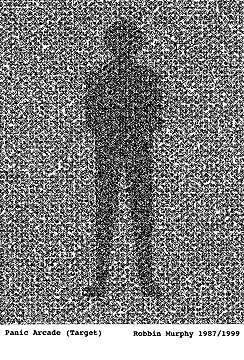 "Panic Arcade (Target)"
1987/1999
Robbin Murphy
First version (1987) is a multiple pass copy done on 8 1/2 x 11" rag paper with bleed edge in black copier ink at Todd's Copy Shop in New York. An edition of 100 was done for the artists' magazine "Art Works" Vol. 4, No. 3, June/July 1987, New York.
Current version (1999) is a scan of one of the 1987 version cropped, titled and saved in jpeg format at 72 dpi for printing on 8 1/2 x 11" support from a Web browser to a printer with settings selected by the receiver.
The resulting printed version is both documentation and published work.
Click on the image left to access the full-size version for printing (width="487" height="720").
For more information contact: murph@artnetweb.com
MULTIPLES ON DEMAND index