Large-Scale Projects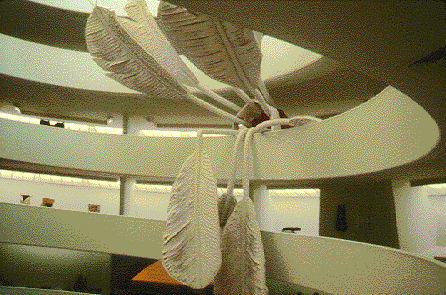 Giant Soft Shuttlecock, 1994.
"need the rest of this i.d."]
For nearly twenty years, Oldenburg has collaborated with writer Coosje van Bruggen to produce a series of large-scale outdoor projects, which have been realized in many urban settings in the United States and Europe. These public sculptures relate to their sites both formally and conceptually. They are represented in this exhibition by small-scale models and drawings, as well as by a full-scale replica of the Des Moines Crusoe Umbrella and a giant soft shuttlecock based on the design of the four shuttlecocks installed outside the Nelson-Atkins Museum of Art in Kansas City.

The twelve-minute video on view shows various stages of construction and installation of the large-scale projects made through 1994.

Beginning in 1969, a number of Oldenburg's "feasible" proposals for monuments were carried out. His first realized monument was Lipstick (Ascending) on Caterpillar Tracks, an outdoor sculpture commissioned by architecture students at Yale University, installed there in 1969, and reconstructed in 1974. For the present exhibition, the sculpture is on view in the main rotunda.

Lipstick (Ascending) on Caterpillar Tracks, Oldenburg's first monument realized for an outdoor setting, was commissioned by the graduate architecture students at Yale University and installed (on Ascension Day) in 1969. Oldenburg placed the lipstick on a tank-shaped base inspired by Caterpillar tractors and rolls of cardboard he had seen near Lippincott, Inc., a factory in North Haven, Connecticut.

Strategically sited before the staid classical columns of a World War I memorial on Yale's campus, Lipstick (Ascending) constituted a subversive alternative to both conventional monuments and war machines.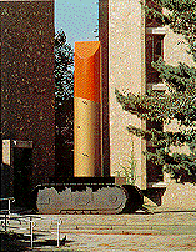 Its missile-shaped lipstick was initially made of a soft material that would slowly deflate until someone wishing to speak from the sculpture's platform pumped it up with air to attract attention. Like many of Oldenburg's sculptures, Lipstick (Ascending) incorporates both male and female forms, while exploring themes of eros, death, power, and desire.
The sculpture was reconstructed in metal in 1974, and is currently installed on the ground floor of the museum's main rotunda.

Lipstick (Ascending) on Caterpillar Tracks, 1979,
installed at Beincke Plaza, Yale University, New Haven, Connecticut,
May 15, 1969 - March 1970.
Steel, aluminum, and wood, painted with enamel,
23 feet 6 inches x 24 feet 10-1/2 inches
x 10 feet 11 inches (7.16 x 7.58 x 3.33 m.).
Yale University Art Gallery,
Gift of Colossal Keepsake Corporation.
"I am preoccupied with the possibility of creating art which functions in a public situation without compromising its private character of being antiheroic, antimonumental, antiabstract, and antigeneral. The paradox is intensified by the use on a grand scale of small-scale subjects known from intimate situations--an approach which tends in turn to reduce the scale of the real landscape to imaginary dimensions."
...Claes Oldenburg
"A common object (applied to public sculpture) is a perfect meeting place--I have always found--of subjectivity and objectivity, inside and outside. I turn to objects out of my isolation and self-reflection, but in objects I discover society, and in objects society discovers itself as well. Common objects are a device for the reflection of their surroundings."

--Oldenburg, 1980