LAURIE ANDERSON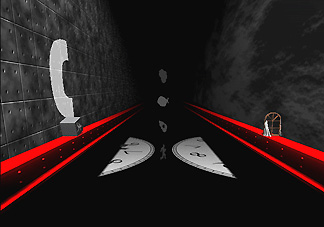 Puppet Motel 1995
CDROM
Released by Voyager Company
Laurie Anderson was born in Chicago in 1947.
She lives and works in New York.

Anderson received a BA at Barnard College and an MFA in sculpture at Columbia University.

During the early 1970s, she emerged as a leading proponent of performance art. In 1981 she released the album "Big Science," which garnered wide acclaim. Her eight-hour concert-performance "United States" premiered in 1983 at the Brooklyn Academy of Music. In 1992 she published "Stories from the Nerve Bible," a retrospective of her work in film, video, installations, performance, and music since 1972.

In 1995, she toured her multimedia piece "The Nerve Bible" in the United States and Europe. She recently released the CDs "Bright Red" and "The Ugly One With the Jewels" and the CD-ROM "Puppet Motel."
~
Other 1996 Hugo Boss Prize Short-List Artists:
Janine Antoni
Matthew Barney
Cai Guo Qiang
Stan Douglas
Yasumasa Morimura
~
back to Main Hugo Boss Page
~
Guggenheim Museum Home Page