Musical Instruments
In a group of works from 1992 based on musical instruments, Oldenburg returned to subject matter he had explored in the 1960s.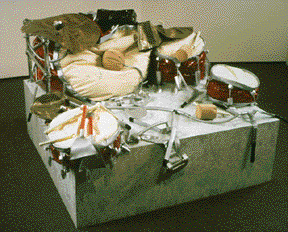 Giant Soft Drum Set, 1967.
Vinyl and canvas filled with expanded polystyrene chips,
metal and painted wood parts;
and wood-and-Formica base with metal railing;
nine instruments, 48 x 72 x 84 inches (121.9 x 182.9 x 253.4 cm) overall.
Collection of Kimiko and John Powers.

His earlier Giant Soft Drum Set (1967), with its many parts constructed of vinyl, wood, and canvas, is among his most complex soft sculptures. The artist once owned a set of traps and was inspired to make a drum-set sculpture after experiencing the shapes and sounds of thunderheads over a dramatic Colorado landscape. He also made a white "ghost" version of Giant Soft Drum Set, a number of related drawings, and a proposal for a colossal monument in London's Battersea Park.
In the recent works, Oldenburg used the subject of saxophones, harps, and clarinets, whose precise forms serve as foils for sculptural statements about defunctionalization and decomposition.
"Drum Set is an unmade bed . . . all gravity. It is a state of nature, a condition, that I want to represent above all--the large formal realm of softness, which one's own body suggests."

--Oldenburg, 1971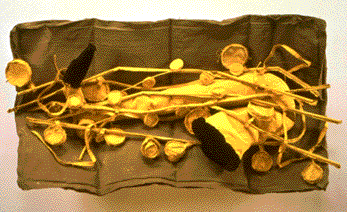 Soft Saxophone, Scale A, Muslin, 1992.
Muslin, cloth, muslin, urethane, wood and dacron, painted with latex
11-1/4 x 27 x 49 inches (28.6 x 68.6 x 124.5 cm.)
Collection of Claes Oldenburg and Coosje van Bruggen, New York.

Like the drum set, Oldenburg's soft saxophone alludes to the human figure, as in the yellow Soft Saxophone, Scale A, Muslin, which lies prone on its pedestal, or the large, white Soft Saxophone, Scale B, which sits gracefully upright.
"A life cycle can be imposed on an object. An object can be very energetic and active, and then it has a dying phase and a phase of decomposition."
--Oldenburg, 1992