Soft Sculpture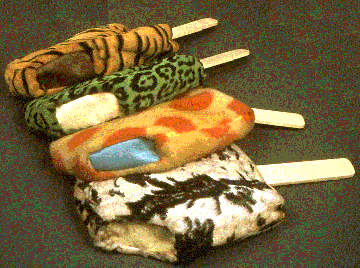 Soft Fur Good Humors, 1963.
Fake fur filled with kapok; wood painted with enamel
4 units, each 2 x 9-1/2 x 19 inches (5.1 x 24.1 x 48.2 cm)
Collection of Will and Anne Hokin
Since 1962, Oldenburg has been making soft sculpture based on common objects ranging from household fixtures (such as toilets, fans, and light switches) to foodstuffs and Manhattan maps. His later soft sculptures are sewn from vinyl or canvas and are stuffed with filler material to achieve varying degrees of flaccidity, his method of "modeling."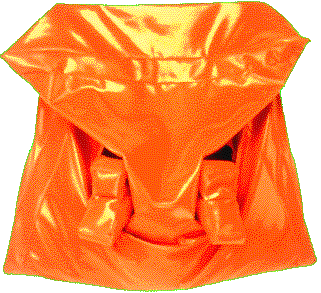 Soft Switches, 1964,.
Vinyl filled with dacron and canvas,
47 x 47 x 3-1/8 inches (119.4 x 119.4 x 9.1 cm.),
The Nelson-Atkins Museum of Art, Kansas City, Missouri,
Gift of the Chapin Family in memory of Susan Chapin Buckwalter, 65-29.

These soft forms, which possess "many identities," exist in a state of constant permutation, shifting in response to movement or the forces of gravity and creating visual paradoxes as hard metamorphoses into soft. Oldenburg has explained, "I like to work in material that is organic-seeming and full of surprises, inventive all by itself." The contours of his soft sculptures have erotic overtones as they swell and droop, suggesting the vulnerable, animate forms of the human body. Examples of Oldenburg's soft sculptures appear throughout the exhibition.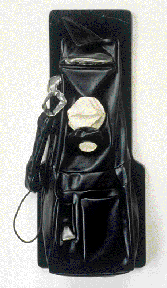 Soft Pay-Telephone, 1963.
Vinyl filed with kapok, mounted on painted wood,
46-1/2 x 19 x 9 inches (118.2 x 48.3 x 22.8 cm.),
Solomon R. Guggenheim Museum, New York,
Gift of Ruth and Philip Zierler, in memory of their dear departed son,
William S. Zierler, 1980.
"The main reason for making a soft version of a known hard object may be (I think more and more it is) to dramatize or isolate the condition of softness. And other conditions such as the response to "gravity"--this condition under which objects appear to exist, and we as objects, as matter, appear to exist."



--Oldenburg, 1969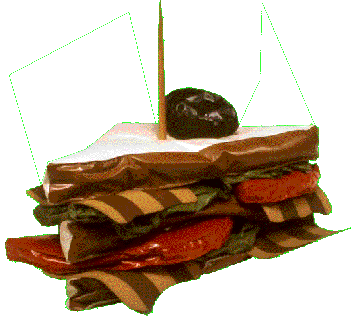 Giant BLT (Bacon, Lettuce and Tomato Sandwich), 1963.
Vinyl filed with kapok, and wood painted with acrylic,
32 x 39 x 29 inches (81.3 x 99.1 x 72.7 cm),
Collection of Maria and Conrad Janis, Beverly Hills.